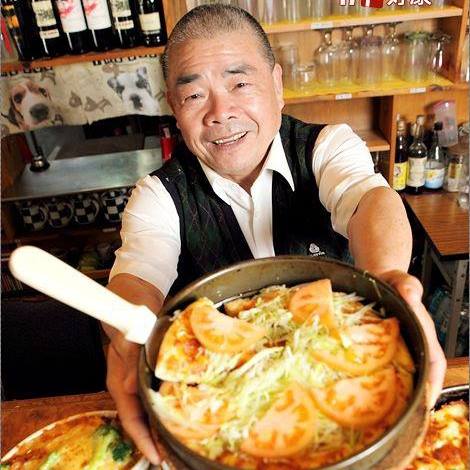 Yih Keh Pizza founder
About Yih Keh Pizza一the familiar great taste of Hsinchu
Yih Keh Pizza was built in 1994 and is located at the KeYa stream near Hsinchu Railway station
Although we don't have a gorgeous exterior and are located in a place where few people pass by,
we still maintain the spirit in choosing the best food ingredients and creating a unique flavor.
We have been established for 28 years in Hsinchu City, and are a favorite among our local customers.
We make our own crust which is simple
but soft and chewy due to the fact that it is made to order.
This makes the good taste food worth waiting for.
(Takeout in 30min, delivery in one hour.)
In particular, our pesto pizza is widely praised by all walks of life.
With its wide variety of food, it is a great place for railway enthusiasts.
At Yi Keh Pizza we have not only pizza, but also fried chicken, baked spaghetti and pasta.
Some of the specials we have are sesame oil chicken, mushroom chicken, and winter melon chicken.
The seasonal vegetables in these Chinese dishes, are favored by older people.
Sometimes, trains pass by during the meal times, therefore,
many railway fans come here just for that!
If you are tired of the busy, noisy life in the city, you can come here.

In 2013,Yih Keh Pizza was featured on TVBS Supertaste.
Come to our store (we offer free parking).
You can enjoy the food and free your soul.
All media reports have given extensive praise.
In 2013,Yih Keh Pizza was featured on TVBS Supertaste.
As well as that, many bloggers have written articles on the internet about us,
giving Yih Keh Pizza good comments.
Delivery service, share conveniently.
We deliver to the following places. (minimum order value in brackets) Jhubei($1400),Nanliao($1400),Hukou($2000),Hsinchu City($500), Science Park.
Customers who can not go out can enjoy the delicious food at home or at work.
There is a bonus for customers who collect from the store.
We have many customers including elementary school students and university students.
They often introduce their classmates and share online to let more people know about Yih Keh Pizza.
This gives us the confidence and determination to satisfy our customers.
Service for Yih Keh Pizza lovers.
Yih Keh Pizza mascot Xiao Xan
Cute mascot, lifts the heart
Yih Keh Pizza designed a mascot in 2016 called Xiao Yan (2nd sis Qiu)
Based on Yih Keh Pizza's uniform she wears a green apron, red T-shirt and cape.
We wanted to create a cute lady to add a lively atmosphere to the store.
We also made
LINE stickers
, in the hopes that we'll have more interaction with our customers.
Besides, there are all kinds of comics about Xiao Xan (2nd sis Qiu)
Why not take a look at
Yih Keh Pizza's comic
!
And also, everyone is welcome to join Yih Keh Pizza's LINE:
@btv5985r
Let's have some interaction! Remember to add "@" to the front!
Zhonghua shop
Phone:
03-5251652、03-5258342
Address:
No.1, Ln. 121, Sec. 3, Zhonghua Rd., North Dist., Hsinchu City 300, Taiwan (R.O.C.)
Business Hours:
AM10:00~PM10:00 , Monday to Sunday (all year round)
Yanping shop
Phone:
03-5230957、03-5230967
Address:
No.9, Aly. 1, Ln. 172, Sec. 1, Yanping Rd., North Dist., Hsinchu City 300, Taiwan (R.O.C.)
Business Hours:
AM10:00~PM10:00 , Monday to Sunday (all year round)